Everything you need to give passengers confidence in your transport network.
Our LED flag displays combine accurate RTPI with the latest LED technology. Capable of displaying information and templates in full colour, Journeo's range of flag displays clearly communicate travel, disruption, operator, branding and event information.
With a maximum level of brightness of 5,500 Nits, a lifespan of over ten years and anti-glare and anti-scratch AR polycarbonate protection, these displays are designed with both longevity and performance in mind.
As with all Journeo displays, they feature pixel, ambient light, environmental and vandal sensors, designed to maximise information uptime. In the event of failure, our smart solutions automatically alert our team of support specialists who can access displays remotely and resolve issues swiftly.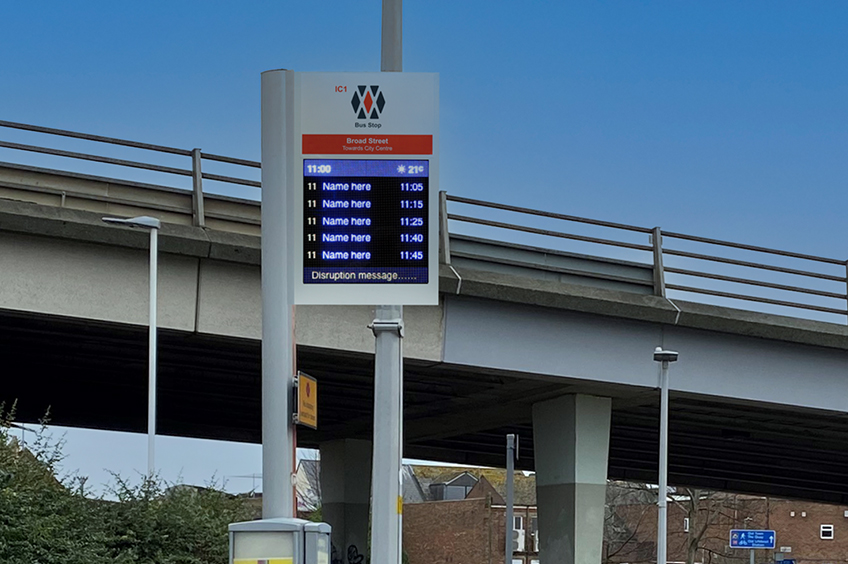 Highlights
Full-colour LED options for enhanced communication.
IP65 and IK09 rated.
LAN, 3G, 4G and 5G communication options.
Multiple form factors for easy integration into existing street furniture.
Sustainable power options available.
Traditional amber LED option also available.
Trusted by leading transport networks and multinational operators.