Nottingham City Transport is the first bus operator in the UK to retrofit a Journeo Camera Monitoring System (CMS) to a vehicle, replacing conventional wing mirrors with a digital solution. Well-known for having one of the greenest and most modern fleets in the country, the solution from 21st Century, part of Journeo plc, will assist Nottingham City Transport in becoming one of the safest.
The Journeo Camera Monitor System uses cameras on the outside of the vehicle, which are connected to monitors inside the driver's cab, to increase visibility. Improving the driver's vision in all conditions, including at night, in bright, reflective sunlight and in heavy rain, the high-definition cameras give the driver a much wider, clearer view and eradicate blind spots.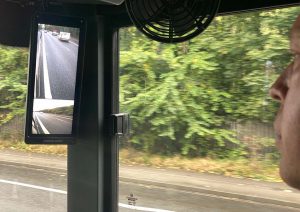 This first retrofit is a landmark for digital wing mirror technology and the Journeo solution, allowing operators to deploy the system to their existing fleet as well as new vehicles. The move ensures consistency in system quality and driver familiarisation, and allows Journeo's nationwide engineering team to manage all systems under one support and maintenance contract.
Because the cameras are much smaller than conventional wing mirrors, they are less likely to hit trees, bus stops, pedestrians and cyclists. User of the Journeo Camera Monitor System have reported a 60% reduction in accident costs and a reduction in maintenance costs of almost 40%.
Liam O'Brien, Head of Engineering at Nottingham City Transport, commented: "We are determined to make our transport network as safe as possible for passengers and other road users and this project is an important step in achieving this."
Liam continued: "As with any significant change to a vehicle, there are a lot of processes to go through. 21st Century's support in helping us navigate the legal procedures has been invaluable."
Mark Johnson, Director of Fleet Systems at 21st Century, concluded: "As a UK first this is an exciting project. While CMS is mandated on all new buses in London, Liam and the Nottingham City Transport team are proving that operators outside the capital can add this important safety technology to their existing vehicles. Because of the huge safety benefits that it brings, we are determined to support the industry to roll out this technology wider. Our understanding of homologation processes for new and existing vehicles is second-to-none and, with a nationwide engineering team, we can help any operator roll out these solutions seamlessly."