Highlights
"By working closely with Chester West and Chester Council, we were able to integrate new solutions that will benefit their day-to-day operations, assisting them with both revenue reconcilliation and enhancing safety."
Ted Beatson, 21st Century
Chester Bus Interchange is benefitting from the new Stand Charging module of the 21st Century CMS

As well as signage that is integrated with emergency warning systems
Customer requirements
As part of the multi-million-pound development of the new Chester Bus Interchange, Chester West and Chester Council were looking for new display signage and a cutting-edge CMS to control the information being distributed to passengers.
The Council was also looking to increase both safety and operational efficiency by including a stand charging module and emergency warning system.
Solution and technology
The 21st Century CMS (Content Management System) has been in existence for over 15 years and is constantly being developed to increase the capability of the system and deliver more features to users.
In addition to the core features of the 21st Century CMS, that allow customers to choose from pre-configured display templates, add elements from a media carousel and consume and intelligently distribute the correct real-time departure information to displays throughout their estate, Chester West and Chester Council chose to take advantage of some of the system's optional modules.
Previously, staff at Chester Bus Interchange had to manually log vehicles as they entered and departed from the interchange. Now, the operation is completed automatically, with the CMS logging vehicle arrivals, departures and the duration of their stays, enabling the team at Chester Bus Interchange to produce operator reports quickly, accurately and efficiently.
The Council also wanted to increase the safety of their interchange and so opted to include the Emergency Messaging module. Integrated with the Interchange's fire alarm system, as soon as an alarm is triggered the screens display evacuation information and can be configured to give information such as the nearest evacuation point.
As part of the works, 21st Century also provided hardware to the interchange including nine above-bay departure boards and a 65" summary TFT display. The summary display consumes feeds from all the bay departure boards, enabling passengers to quickly see from where in the interchange their service will depart from.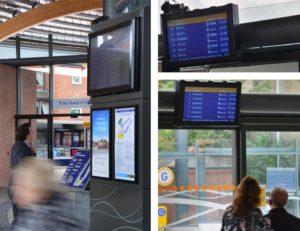 Delivery
21st Century worked closely with Chester West and Chester Council to ensure the Interchange was ready to go live as scheduled. The CMS has been well received by the operational staff within Chester Bus Interchange; with increased automated processes freeing up their time, it has enabled them to concentrate more on customer service and passenger satisafaction.
The displays now clearly highlight bus services leaving from the interchange, enabling passengers to select their travel appropriately.