Gatwick Airport is the second busiest UK airport with a location south of London offering an easily accessible major travel hub to travellers serving over 220 destinations. It operates from two terminals with over 700 aircraft movements a day operated by 56 airlines with EasyJet having its major hub based at North terminal.
With over 45 million people using the airport each year and 36% using a car, its transport network and parking services must operate using the most reliable, realtime and passenger friendly technology to ensure customer satisfaction is maintained.
Bus operations between the North and South Long Stay car parks and the terminal are provided by Omniserv, part of the ABM Group and under contract to Gatwick Airport Ltd (GAL), together with Staff car park operations and also shuttle replacement services.
The Omniserv fleet comprises 14 buses and operate a 24hrs a day, 7 days a week to a prescribed service level during peak times and an on-demand service during quieter periods.
Within the public Long Stay car parks multiple parking zones are arranged each with a sheltered bus stop and in the case of South Long Stay, these zones will be opened and closed according to demand.
Prior to the engagement of 21st Century, car park shelters and technology on the buses comprised largely analogue technology that prevented information-exchange between systems in a realtime manner and often required depot staff to visit vehicles to extract CCTV or update passenger information displays. In the bus stops, basic dotmatrix displays were installed that were limited to displaying simple text messages.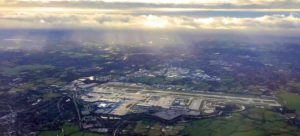 Scope
21st Century was engaged in January 2017 to replace the technology within the Long Stay car parks, at the terminal return-journey waiting areas and across the bus fleet. The brief also included the implementation of a real-time system to help Omniserv measure its service performance and provide accurate vehicle arrival information into the bus shelters and through the airport's internal applications to staff car park users.
It was a requirement that all systems be on-line and connected to ensure performance could be measured, that visits to shelters and vehicles to update media were kept to a minimum and most importantly, that passengers would receive accurate and real time passenger information at the shelter and on-board.
As systems integrator, 21st Century's responsibilities were:
Understand Omniserv and GAL's detailed requirements
Select system vendors
Create the detailed vehicle design
Agree system information sharing protocols on and off the vehicle
Install, test and commission all hardware